Pick the Best Italian Boys Suit
SuitUSA
https://www.suitusa.com/best-italian-boys-suits
Best Italian Boys suits
Boys suits, Italian Men Dress Suits, Italian Designer Suits Men, Custom Italian Suits, Boy suit, Black boys suits, Navy boys suits, Tan boys suits, Boys dress suit, Brown boys suit, Charcoal gray boys suits, Olive green boys suits, Sand boys suit
Italian Suits for Boys
Many factors would contribute together to make a Boys suit perfect and appealing. The main important thing is the quality of the wool fabric. For getting the best quality boys suit, it is necessary to have the fabric that contains 100% wool. If the suit is made up of anything lighter, the suit would tend to wilt easily. If the boys suit is made of anything heavier, it would be much stiff in appearance and most of the boys would feel uncomfortable wearing it. And worse most kids would refuse to wear it. In addition to being 100% wool and superfine quality fabric, the best suit would be produced from the finest wool made in Italy. Hence Italian boys suit are popular for its quality.
Types of fabrics
For an ideal suit, the manufacturing mill should provide a label that contains information on the type of fabric used, the quality level and the region of origin. Generally suits not made in USA would be labeled with the country of its origin. If the suits are labeled with a particular city name, they would not be made in Italy.

Quality of the boy's suit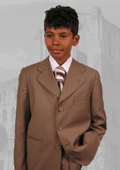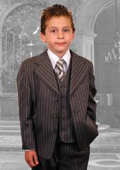 It is true that the country that boys suit are made is a determining factor of its quality. Suits can be from any part of the world, but Italian boys suit offer better quality than suits made elsewhere. This may be due to the fact that in Italy the workers are skilled, the suits are overlooked by designers and experienced managers, options of getting reliable deliveries if the newest trends like in fabrics, buttons, improved lining fabric and so on. These factors are vital in determining the quality of the suit in total. You must also check for the reliability of the labels. A genuine label would be the one that is permanent label in the neck or in the pocket and not something that hangs by a string. While purchasing boys suit, the lining should also be considered. It has been said that suits using Bemberg fabrics as lining would be the best choice.

Perfect italian boy's suits

Look out for the finish of the suit before buying it. In a quality finished boys suit, there would be besom pockets as well as two back pockets. Usually fine Italian boys pants would have at least the leg front lined to the knee. Make sure that you never fold the lapel flat. These are qualities required in a perfect Italian boys suit.