Styles in Men's Business Suit
SuitUSA
https://www.suitusa.com/mens-business-suit-styles.aspx
Styles in Men's Business Suit
Despite browsing through several variations historically, men's business suits designs stay relatively conservative and very similar nowadays.
Men's Business Suit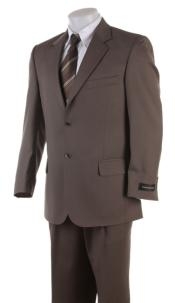 Despite browsing through several variations historically, men's business suits designs stay relatively conservative and very similar nowadays. There are several styles of men's business suits. The main variations between styles are the cuts. Generally, mens suits are fabricated from similar materials with similar tailoring tips in mind. Here are some styles of men's suits:

Double-Breasted Suits have one to four rows of buttons with each row containing two buttons that run parallel to each other down the front of the suit jacket. One or two of the button rows are functional where as the others are decorative. This type of suit is considered the most conservative type.

Single Breasted Suits typically have only one row of buttons running down the front of the suit jacket. The number of buttons varies from 2 to 3 commonly or 4 for suits for taller men. British Suits are generally characterized by moderately tapered sides. They have 2 side vents and mild shoulder padding.

Italian Suits, much popular for their fine style, normally have padded shoulders, no vent and tapered sides.

American Suits are considered a little more casual with a level of shoulder padding between the British and Italian designs, minimally tapered sides and single walking vent. Contemporary Suit styles are those that don't fit within any of these conservative guidelines. These suits are considered to be "trendy."

The cuffs of most men's suits feature 3 or four buttons. The buttons are purely decorative, because the sleeves are sewn closed. However, some higher-end suits feature a doctor's cuff, which may be unbuttoned. There are certain criteria you must use while purchasing mens suit, as there are various styles of suits available. You can choose the style entirely based on your preference however here are few hints to choose the best suit among that style.

Opt for a fabric that springs back well from wrinkling. Suits made up of worsted wools are apt for all weather and all climates.

While buying a suit, the fit of the pants must be taken into account. They must be comfortable and not tight at the waist. There should be gap of two fingers between your body and the waist of the pants. Heavier men should opt for pleats, while thinner guys should select a flat-fronted pant.

Men ought to take great care to ensure their pants are the correct length. Slacks should reach the top of the shoes, with a small bend in them, but not drag the floor. Shorter men should not prefer cuffed pants, as they tend to make the legs look shorter. Overly short sleeves on your suit jacket would look odd. A man's jacket sleeve length should reach exactly the wrist when his arm is hanging down. This way, a bit of your shirtsleeve cuff will still show off, but not too much.

Your suit jacket should be of correct fit at the waist. Opt for a smaller size if it's too sloppy and get a larger one if your jacket doesn't meet in the middle. Overall, the fit of your men suits should be comfortable and non-restrictive. Yet, the suit needs to look like it fits, as well. Therefore, if you are used to wearing your clothes with room to spare, you'll need to focus on the fit rather than the comfort.

Once you have got selected the perfect suit for you, all you have left to purchase is a nice dress shirt and a tie. Once everything has been purchased, you will be all set for that next important meeting!
Suitusa.com Products