Exquisite Double Breasted Suits make Great Office Attires
SuitUSA
https://www.suitusa.com/mens-double-breasted-suits.aspx
Tips on Wearing Mens Double Breasted Suits
Mens Double Breasted Suits, Double Breasted Jackets for Men, Double Breasted Suit, Men's Double Breasted Suits, Mens Double Breasted Suits Online, Mens Suits
Men's Double breasted Suits
Men's suits have always been the most exquisite attires that one could ever find for any formal as well as informal occasions. Fashion industry has been quite revolutionary in terms of its designs and stylish outfits. Over the years, every decade or so the industry comes up with new set of stylish clothes with exquisite designs and the existing style always falls out of fashion. That has never been the case with men's suits. Suits have also undergone revolutionary changes in terms of its designs and styles. However, they have always been the classiest, stylish and the perfect formal attire one could ever find at any given day. On this note, let us take a look at double breasted suit design.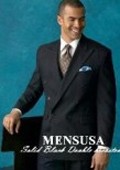 A coat and a jacket or a similar kind of garment that has wide overlapping of front lapels and two parallel columns of buttons constitutes a double breasted suit. At one point of time these suits were highly popular and you would have found many business officials walking on streets sporting that old box type of double breasted suits. Unfortunately over the years those apparels had lost its popularity as men started to prefer the single breasted version. Most men prefer going for a safer option when it comes to purchasing suits and they think double breasted suits are out of fashion. Double breasted suits have a bittersweet history.

Its popularity keeps shifting between fading and gaining every now and then as newer styles keep coming into the market. But you can never go wrong with a double breasted suit and you ought to have one in your wardrobe collections. This particular suit design is truly remarkable and exquisite that they can never go out of fashion. They are quite chic and trendy. In fact its flaps help in giving that conventional look that most businessmen seek for. The design is truly remarkable in the sense that there are 2 columns of buttons and the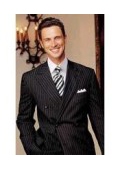 overlapping columns are used for fastening the jacket and remaining buttons are there just for decorative purposes.

These suits make you look truly outstanding and professional. Being professional is something that is very important for every businessman. The image that you create for your customers is a testimony for how your business turns out to be. And being professional portrays a very confident and trustworthy image for your customers. In fact it is the true image of a successful businessman and hence, for every business development it is very important to have the right attitude and confidence.

However, when it comes to double breasted suits, it is advisable that you go for safer colors such as navy blue, grey and charcoal. The above mentioned colors are truly versatile in the sense that they could be matched with any colored tie and shirts. When it comes to other colors, it is very important that you match your suit with appropriate tie and shirts. If you do not pair it well, you are bound to look shabby. When dressed appropriately, these double breasted suits are truly versatile and comprehensive. And to top it up, these suits could be worn for both formal and casual events as per your convenience.
Other Mens Suits Articles:
Suitusa.com Products