Stylish Tuxedos for Men
SuitUSA
https://www.suitusa.com/stylish-tuxedos-for-men.aspx
Stylish Tuxedos for Men
Tuxedo, Tuxedos, Man Tuxedos, Wedding Tuxedos, Buy Tuxedo, tuxedos for sale, los angeles tuxedo, los angeles tuxedos
Tuxedos for Men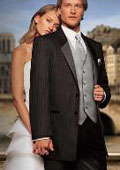 Various special occasions would demand men to wear tuxedos. Today there are varieties of styles in which the tuxedos are available. Some are traditional and simple, while others are more flamboyant and stylish. You can choose to wear which ever style you would like. More than anything, you should buy a tuxedo that would suit your occasion. This will ensure that you are the center of attraction to any party where you go. Men always want to look smart and dressed for any occasion they attend; therefore choosing the right tuxedo is indeed mandatory.

Tuxedos are generally black or dark blue in color. These colors match a formal occasions the best. They can come in both polyester and wool. The coat carries a black lapel and a bow tie.


These tuxedos are generally stylish for all occasions; however, you can choose your tuxedo to perfectly suit the occasion that you are going for. For an informal occasion, a single breasted suit is generally worn. When the occasion is of a formal type, a double breasted suit is generally worn. It is recommended to choose black tuxedos for night parties whereas grey and blue are perfect for evening celebrations.

Depending on their body shape, people can choose to wear a tuxedo accordingly. For people who are too tall or thin, a double breasted suit would look good.The placing of shoulder pads in the suits gives an impression of wideness. For people who are short but thin should wear a single breasted coat. These people also should avoid a coat with too many buttons as this will lay emphasis on their shoulders.

The pants and the coat should co ordinate with each other. If you are wearing a tail coat then you should wear a pant that has two stripes. Otherwise you should wear a pant with a single stripe.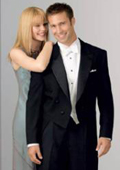 The jacket forms the main part of the tuxedos. These come in different styles. You can either go for the traditional style or go for something modern. Again, this depends on the occasion you are attending. If you are attending an office formal party or something similar, then you should go for the more traditional look. If it is a casual gathering of friends then you can go for a more relaxed look by donning a more casual jacket.

Tuxedos can be worn for most occasions but most of the style decisions come from what type of gathering you are attending. Even if you are going for a wedding you should know whether it's going to be a serious formal wedding or a casual one. This will help you to narrow down your choices in choosing the right tuxedos.
Related Tuxedo Articles:
Suitusa.com Products