Which Men's Suits You Should Choose?
SuitUSA
https://www.suitusa.com/which-mens-suits-you-should-choose.aspx
Which Men's Suits You Should Choose?
There are three styles of men's suits in the market i.e. Italian Style Suit, Custom Man Suit, Fashion Suits. Whatever be it, make sure that you pick the best one that suits your personality and your fits your body as well.
Choosing Men's Suits
There are three styles of mens suits available in the market. Whatever be it, make sure that you pick the best one that suits your personality and physique.

There are several benefits of purchasing custom made suits. We have mostly spoken on man suits in general. Now, let's talk about the modern business suit for men in detail. The discussion will focus on the components of suits that includes vents, lapels, sleeve buttons, double & single breasted style, pockets and of course the trousers. If you notice carefully, you will find that business suit is a must have attire in every gentleman's wardrobe. There are very few events where a man will bring out this good looking suit to stand out from the crowd. Those men, who has a firm idea about style and knows how to implement it, would surely choose to go for the business suit in his wardrobe.


Did you know that for a man the path towards elegance begins with his suit, which is considered to be the keystone for every man's life? A white suit is actually a package that comes with trousers, a jacket and shirt that are made of same fabric and cut, intending to be put on together. To be precise, it is the suit cut that determines the personality of the wearer which is an essential and lasting element in every gentleman's life. Out of everything, it is the suit's jacket what we would be mainly stressing on. Most of the experts have the same opinion that there are three major suit styles, rightly named after the countries from where they are originated. These three are none but the English style, Continental style and American style. These three styles of men's suits are very common anywhere you go.


Each of these styles differs from one another. The English style has unpadded and soft shoulders. You will also find an hourglass and long body with high waist, single or double breasted along with 2-3 buttons and vents at the sides.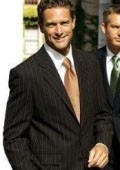 Continental or Italian style is a lightweight construction having high or squared shoulders.. It also has a short body-hugging single breasted type with no vent and two buttons. . Whereas, the American styled suit is identified as a suit that has natural-shoulder with straight roomier body, a back vent and 2-3 buttons. Each of these men's suits styles has unique and smart suit jackets.

Suit jackets are in fact defined by a lot of things like the fabric from which they are made, the cut or style, the trimming applied and the level of customization, etc. Of all these, the fit or more precisely the cut plays a very important role. Always remember that a poor fitted suit will never make the wearer look good, in spite of having a good detailing. The cut of men's suits are a product of two elements: the exact proportions and the overall silhouette of a man who wears it. It is very important to consult a good and professional tailor, who will cut the suit rightly to make proper fittings as per your body measurements. In fact he is the one who can enhance the wearer's strengths by hiding his weakness. This is why it is always recommended that a man should consider custom clothing to have a smart look.
Other Mens Suits Articles:
SuitUSA.com Products
---