Glam up your style with yellow French cuff dress shirt
SuitUSA
https://www.suitusa.com/yellow-french-cuff-dress-shirt.aspx
Glam up your style with yellow French cuff dress shirt
The masculine French cuffs of this light weight formal wear is wider than regular barrel cuffs and it can be folded back to create a double cuff.
yellow french cuff dress shirt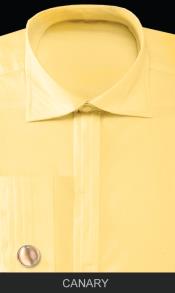 Dress shirts hold a prominent place in any men's formal wear collections as it goes well with chinos or suits or any other formal slacks. Having multiple options in colors, styles and patterns, the dress shirt is the essential means for expanding one's wardrobe and the uncanny ability to adapt to any sort of attire makes it popular among all age groups. Though it is made available in a wealth of choices, one style has garnered a huge craze; yes it is the fabulous yellow French cuff dress shirt. The masculine French cuffs of this light weight formal wear is wider than regular barrel cuffs and it can be folded back to create a double cuff.

Modeled in appealing tone:
The eloquent yellow tone accents everyman's outlook and make his complexion flattery effortlessly. This ethic color makes a statement and impacts the person even at hundred feet away. The serene shade creates a positive effect on the wearer's personal style and appearance. Creating a pace of change from the conventional white color, this effectual apparel toned in exotic yellow will see you through for both corporate settings and night galas.

Wide range of fabrics:
For making this stylish staple absorbent and breathable, wide range of fabrics with brilliant weaves and blends are roped in. The polyester is less susceptible to wrinkles but it goes helpless during summer due to its minimum breathability. The cotton and silk come handy for the hot days of summer. Warp and weft style weaves are used to create brilliant textures on this lasting ensemble. Having designed in multiple fabrics such as polyester, rayon, cotton and silk, this yellow French cuff dress shirt leaves you with great choices, allowing you to choose the best that meets your requirements.

Flaunts appropriate fit:
This exuberantly elegant attire comes in a traditional standard cut where the body is streamlined from the base of the arm hole to the hem or an athletic cut that poses a narrower waist. The athletic cut dress shirt is a good option for men with broad shoulders as it frames the handsome build elegantly, hiding the physical flaws whereas the traditional construction works great for a regular sized gent.

Keep an eye on the setting:
Wearing an outfit according to the setting or occasion helps you make a sensible presence. These French cuff shirts will have you look polished for formal business meetings and casual gatherings but it is amateur to wear it for black tie events. It is always wise to consider the ambience and nature of the events that you are going to take part, before dressing up.

Complement with accessories:
This gorgeous formal wear is incomplete if it is not paired with elegant cufflinks. Though cufflinks are the opportunity to reflect one's fashion sense, you must not play with its color or style as doing so might create a serious negative impact on the sleekness of your dress shirt. Make sure that the tie you're pairing it with flatters simple design and light shade. Thus, owing a pair of yellow French cuff dress shirt will do a great job to make you end up with an enviable dress up without much effort.
Other Mens Suits Articles:
SuitUSA.com Products
---