Stand Out In The Crowd With Your New Red Tuxedo Jackets!
Stand Out In The Crowd With Your New Red Tuxedo Jackets!
Don't allow yourself to mix into the dance floor at your prom, stand out with a one of our red tuxedo jackets! Here at Suitusa, we believe everyone has their own style and we are here to help you find yours!

Don't be afraid to be bold by wearing one of our red tuxedo jackets. Pair your red tuxedo jackets with a black shirt and black bottoms and you have a look that is guaranteed to turn heads and make everyone jealous. You will be the talk of the evening with your bold statement on fashion and style. Your jacket will trump the other prom tuxedos in both style and boldness. Put yourself out there and be remembered while other tuxedo styles just blend in.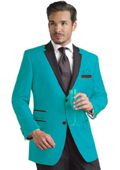 Prom tuxedos at great prices
If you are looking for prom tuxedos, Suitusa will have what you need! We spare no expense when we stock our warehouse with many tuxedo styles to help you get exactly what you want and only a fraction of the cost of the other guys.
Regardless of what tuxedo style you want, we either have it or will get it! If you are looking for a classic look, we have black and white classic cut suits that you will love. If you are looking for a trendier look, we have many color options in more modern cuts that will fit the bill. If you want to make a statement, you can go bold with the red tuxedo jacket and black pants. Our tuxedos are of the highest quality, guaranteed to make you the talk of prom or any other formal event.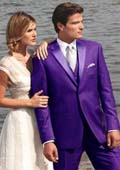 Be bold with your tuxedo style
Look dapper in one of our many prom tuxedos or with another tuxedo style. We carry everything from one button to four button tuxedos, single or double breasted, and even fashion tuxedos, we have it all.
All of our prom tuxedos are of excellent quality and will last years, even after continual use. Along with the quality comes comfort comes the perfect blend of materials, allowing you to be able to dance all night and not have to stop due to discomfort. Also, the quality of the suits allows you to keep insulated no matter what. Whether your prom is on the Queen Mary on a frigid night or in a crowded dancing hall, you will stay comfortable regardless of weather.
Buying a tuxedo for prom is an excellent way to save money. When renting, you pay a sum of money that you will only be able to wear once, which is fine if you plan on wearing a tuxedo only one time in your life. Purchasing a quality tuxedo will save you money in the long run, and with the tuxedo styles we offer, you will not have to buy one every year because it is out of fashion.

Suitusa carries many colors in all styles, just take a look. No need to continue looking, whether it is your first or third stop, they have one thing in common, it will be your last! Want to see our offerings in person, visit us at 11517 Santa monica Blvd Los Angeles CA 90025 . Our prices and selection are guaranteed to keep you coming back for years to come.

Recommended for You Our Top Sellers